Performance RACE ROLLERS X 6, APACHE KIDS 100cc QUAD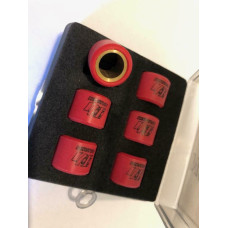 Product Code:
RPL004
Availability:
In Stock
Price: £0.00
Ex Tax: £0.00
WILL FIT 2 STROKE QUADS......AEON , QZ, R100, QUAD , ATV......90/100cc
Set of 6 variator weight weights . These high-quality HD [Heavy Duty] weights not only perform very well as a stock weight replacement, but also show their true potential in high-end engines. During production, the inner ring is carefully knurled and only after this is it bonded with the plastic. This prevents the weight material from separating from the inner ring under temperature fluctuations, which usually happens with cheaper weights. The high PTFE content in the outer material provides good self-lubrication and durability and the characteristics of the Teflon provide smooth Variator shifting. Very good value for money and one of the most durable weight components in our range.